[REVIEW] THE DOUBLE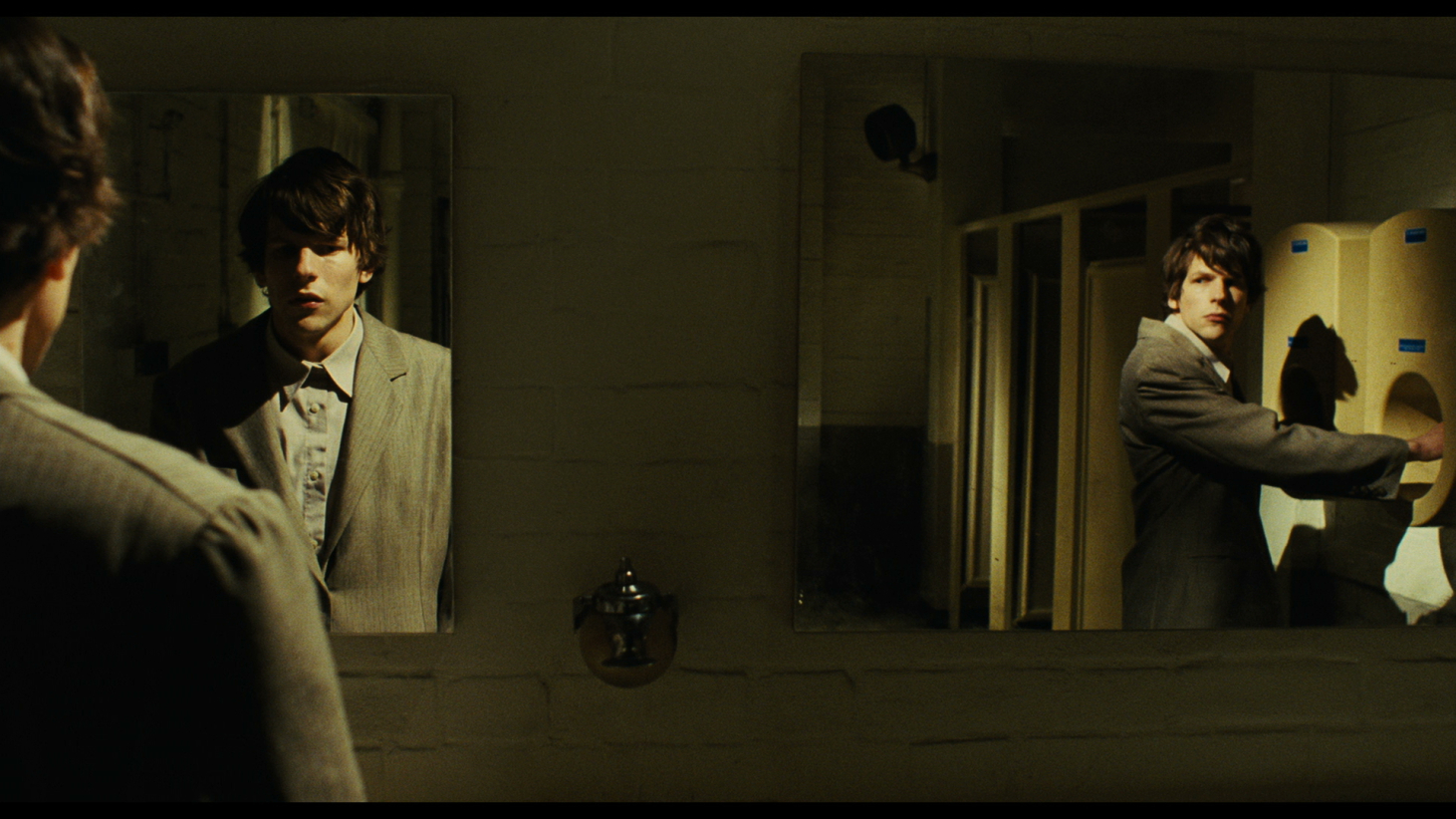 Jessie Eisenberg stars as both Simon and James, government workers that share the same face but have polar opposite personalities, in The Double. Based on a Russian novella and directed by The IT Crowd's Richard Ayoade, this film follows timid, lonely and ignored Simon as he fixates on his co-worker Hannah (Mia Wasikowska) and finds his world unraveling when the charismatic James arrives and starts to take over his life.
There have been many films about doppelgängers in the past yet here it doesn't feel like it is being used as a gimmick. This fresh and original take on the subject is mainly due to Eisenberg's performance and the way Ayoade skillfully frames his shots to provide a sense of claustrophobia and to document the intense feelings of neuroticism that Simon experiences. Eisenberg brilliantly pulls off the tricky task of playing two separate characters who manage to both be pretty unlikable but still utterly absorbing. Whether I was cringing at Simon's telescopic spying, a la Rear Window, or cursing James' ill intentions, I found myself holding my breath and waiting for the inevitable downfall of Simon or James. Eisenberg delivers a convincing, if unnerving, performance that shines, particularly when Simon starts to spin out of control.
The drab, monochromatic and surreal reconstruction of our world and the presence of heavy industrialism in Simon's life serve to provide a comment on modern business life, such as the disappearing sense of self that can occur, and effectively creates a strong sense of melancholy at such a familiar universe. However, this film may not be for everyone. It is certainly not a lighthearted or uplifting movie that will give you the 'warm fuzzies'. Instead it deals with the increasing sense of isolation one may feel in today's world and the familiar divide and conflict between who you are and who you want to be. Yet there are some moments of dark comedy sprinkled throughout the film which does break up the serious and intense moments and I did surprisingly find myself laughing on a number of occasions. Ayoade is able to balance these moments by the successful control of the musical score, which perfectly ebbs and flows with scenes of increasing uneasiness. Ayoade's direction over this film, combined with an excellent cast and musical score, provides us with a movie that is beautifully haunting and will leave you questioning your own feelings towards modern industrialized life and the accompaniment of isolation.
4 out of 5 Stars